Oven Stew With Burgundy Wine (Diabetic)
lazyme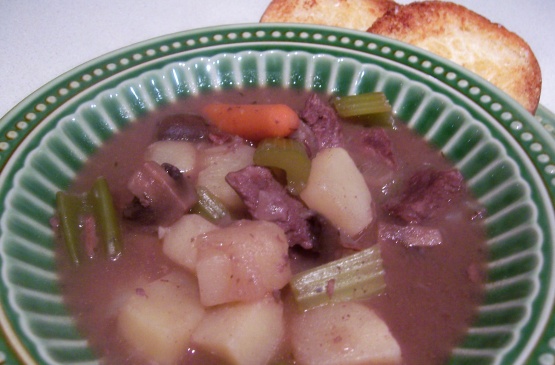 Comfort food thats good for you. I have included diabetic exchanges for those who are keeping track.

The best beef stew I've ever had. I served it over whole wheat egg noodles and we didn't miss the potatoes at all. Thank you.
Preheat oven to 350°.
Brown beef in large ovenproof pot or roaster. Remove from heat and stir in flour until cubes are coated.
Stir in carrots, celery, and onions.
Season with salt, thyme, mustard, and pepper.
Pour in broth and wine.
Cover and bake for 4 hours.
*Note: You can add 2 cups mushrooms if desired without changing the nutritional info.
1 serving = 1/2 carbohydrate, 3 protein, 1 fat.