Oven Stew A.k.a. Moving Stew
Bergy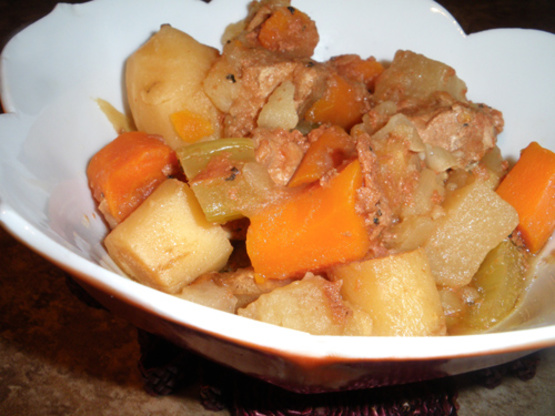 My mother would always make this on "moving" day if any family member was moving. I personally don't like the parsnips, rutabagas or turnips you can add other stewing vegetable or more carrots or potatoes. No need to brown the meat either.

Top Review by Bergy
I did not awards stars to this recipe because it may be that I did something wrong. I did not add any tapioca but I don't see how that would affect my end result. I had planned to add some cornstarch at the end if needed to thicken the sauce. After 3 hours at 250 in a Dutch Oven with a tight lid my veggies were very soft and really over cooked. The aroma was heavenly, the flavor wonderful but as said over cooked. I wish I knew why this happened. There was hardly any sauce left - it had been absorbed by the veggies. I am going to make a wonderful soup out of the remainder by pureeing the veggies/meat and adding more beef stock. It will be enjoyed.
Place all ingredients in a roaster pan. Do not brown meat. Mix well and cover. Bake at 250 for 4 hours. Comes out with a nice gravy and super easy!