lazyme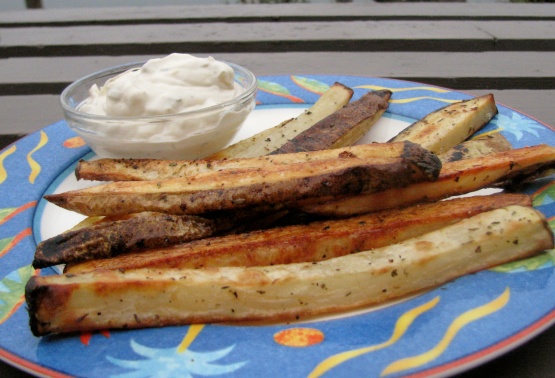 Recipe courtesy Rachael Ray, 30 Minute Meals

I LOVE these fries! I dont know if I will ever make any other kind of oven fries ever again *laugh*. I was making some fried fish and hush puppies, and wanted some fries to go with it, but didnt want to actually fry them, so I did a search and found that I had all of the ingredients to make these. I printed it out and away I went. BOY OH BOY! I am so glad I came across this recipe!!! The montreal steak seasoning along with the thyme and oregano, really add wonderful flavors to these potatoes. Thank you so much for posting this recipe. I will be making these again in the near future.
Preheat oven to high.
Cut potatoes and spread out on a cookie sheet.
Coat potatoes with extra-virgin olive oil, dried herbs and steak seasoning or, salt and pepper.
Spread potatoes to the corners of the cookie sheet.
Cook potatoes in very hot oven 25 minutes.
Turn potatoes once, half way in the cooking process.
Serve fries hot from the oven.