Oven Sausage With Peppers-N-Onions
VickyJ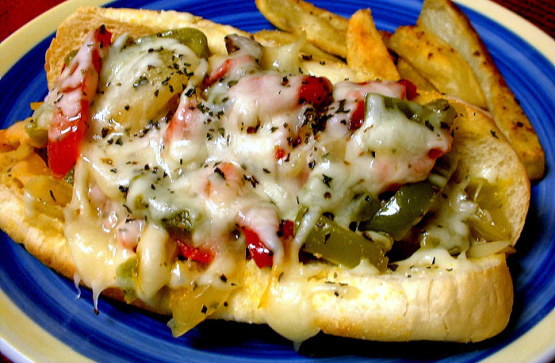 This is an easy way to cook sausage, peppers and onions together. They cook to be really juicy and acquire the flavor of the vegetables while cooking. I serve the mixture on hoagie rolls. You could also add shredded Mozzarella atop sausages/vegies and put back in the oven, just until the cheese melts! These are great with oven french fries. This recipe could also be expanded and taken to potluck dinners and kept warm in a crock-pot and just have the hoagie rolls on the side for people to make their own sandwiches. There are alot of possibilities with this recipe.

I had 30 people over last night... this recipe and comments were a god send!! Nonstick foil worked great. I cooked 2 trays for a total of 45 links with 10 big bell pepper; red & green and 6 medium onions @ 375f for 50 minutes (last 10 w/o foil). Sausage was nicely bronzed. I had a tray of spicy links that came out nice but lost a lot of the "hot" factor so maybe 50 minutes is too long. No survivors!
3

Italian sausages (mild, sweet or spicy)

2

green peppers, cut into strips (I used red, orange and green)

1

medium onion, sliced (type of onion is your preference)

2

tablespoons olive oil

2

teaspoons garlic powder

2

teaspoons italian seasoning
nonstick cooking spray
aluminum foil
-Preheat oven to 375°F.
-Line a small 8-inch square pan with foil.
-Treat with cooking spray.
-Poke a few holes in sausages with fork or sharp knife.
-Layer sausages, peppers, onions, olive oil and seasonings in pan.
-Cover with another sheet of foil.
-Cut a couple of slits in top for steam to escape.
-Bake for 35-45 min (ovens vary).
-Serve sausages with peppers/onions on warm hoagie rolls!