Oven Roasted Whole Lemon-Pepper Chicken and Veggies
momaphet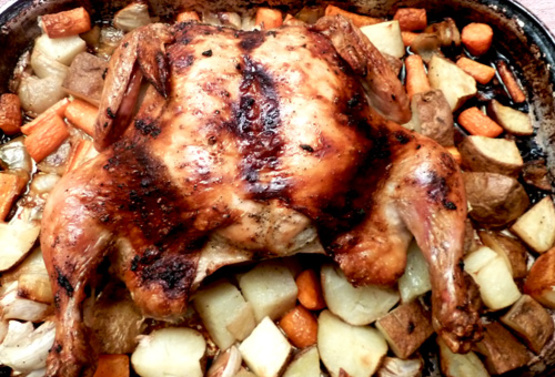 This is a great meal for special family occasions. It's also an easy clean-up, one pan dish.
This dish is really simple and delicous. I used granualted garlic and kosher salt in place of the using a little less salt than called for, I also reduced the amount of oil. The chicken juice gives amazing flavor to the veggies, and I was able to make a pan gravy from the brown bits after draining off almost all the fat. It was rich and dark and looked more like beef gravy. I put in almost a whole head of individual garlic cloves still their skins they added even more flavor squeezed into the dish. I will be making this again . Made for Recipes with our Photos Tag
Preheat oven to 400 degrees.
Thoroughly wash chicken in cold water, especially cavity, pat dry.
Using kitchen shears, remove backbone and ribs to "butterfly" chicken.
Gently separate, but do not remove, skin over chicken breast, legs and thighs.
Wash and cut potatoes (skin on), carrots, and onion into coarse cubes.
Spray a 13 by 9 inch baking dish with non-stick spray.
Spread vegetables in bottom of dish, drizzle with 2 tablespoons olive oil, sprinkle with 1/2 teaspoons garlic salt and 1/2 teaspoons coarse ground black pepper.
Place chicken on top of vegetables.
Combine 1/4 cup olive oil, 1/4 cup lemon juice, 1 teaspoons lemon pepper, and 1/2 teaspoons garlic salt with a whisk.
Gently lift chicken skin and drizzle olive oil and lemon juice mixture under the skin.
Pour any remaining oil mixture over skin.
Tent dish with aluminum foil. Place in preheated oven for 40 minutes, remove foil, and roast for 30-45 minutes longer, until chicken juices run clear.