Oven Roasted Tomatoes With Goat Cheese
Ms B.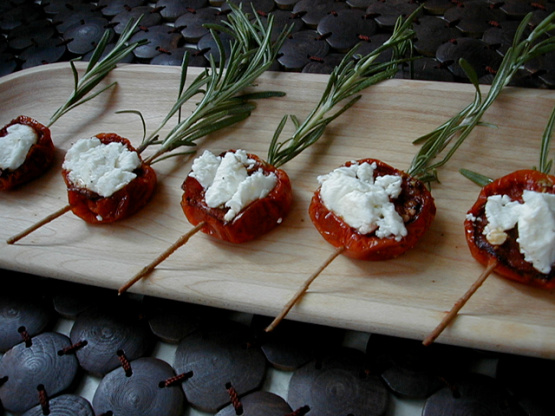 From the March 2006 issue of Cooking Light. These are an excellent starter with the Mushroom and Garlic Pizza recipe I am posting and a tossed green salad. When I prepared these, I only had small salad tomatoes on hand (about the size of large cherry tomatoes)...they were perfect bites of flavor.
Preheat oven to 200°F.
Place a wire rack over a baking sheet; set aside.
Combine tomatoes, 1 tablespoon oil, and vinegar; toss gently.
Place tomatoes cut sides up on rack. Sprinkle with salt and pepper.
Bake at 200F for 6 hours, or until tender and slightly syrupy (do not overbake or tomatoes will be tough and chewy).
Remove from oven; cool completely.
Place 1/2 teaspoon cheese onto each tomato half. Fold slightly; secure each tomato half with 1 rosemary sprig.
Place on serving platter; drizzle with remaining 1 tablespoon oil.