Tisme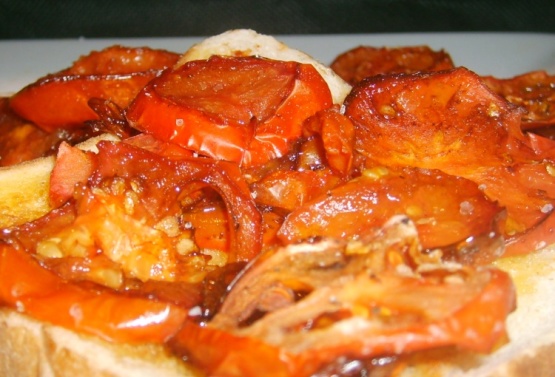 Excellent on Italian sandwiches

I actually made this recipe to look for a way to get rid of some of the excessive moisture in tomatoes that I was using in tomato pie - The first time I used fresh tomatoes and some tarragon vinegar - they were fantastic, could not stop eating them, almost did not have enough for the pie. The second time I used some rather sad roma tomatoes from the grocery store - I tasted one after the 30 minutes and decied to flip them and roast for another 30 - wow they were so very good - I used this method for my own roasted-tomato-pie-434080 but will be using a lot for all sort of recipes.
Preheat oven to 275°.
Spread the sliced tomatoes on a small foil-lined baking sheet (it is fine if they overlap).
Season with salt, then drizzle or spoon half the balsamic vinegar over the tomatoes.
Bake for 20 minutes, then drizzle the remaining vinegar over the tomatoes; cook for 20 more minutes.
Transfer to a small bowl.
Keep the tomatoes, covered, in the refrigerator for up to 3 days.