Oven Roasted Tater Sticks
Kitty Z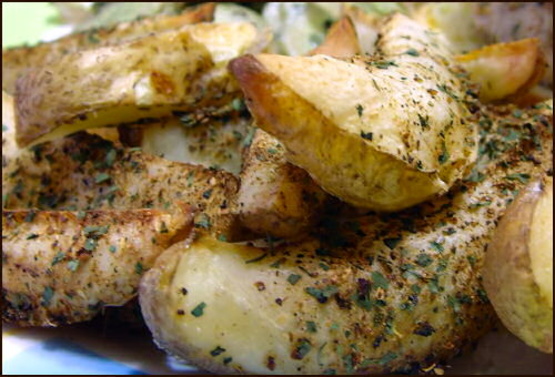 Crisp and crunchy like french fries, but guilt-free (no fat, low sodium) Be sure to cook your Tater Sticks on a DRIP RACK above your roasting pan's surface. This allows air to circulate under the sticks so they cook without burning or sticking to the pan.

These were yummy, but I did have some trouble with them. First, they stuck to my pan terribly--maybe my butter-flavored spray just didn't cut it?? Anyhow, we had to pry them off the pan. After one hour these were entirely mush in the center and the outside a little burnt, so I think it is necessary to adjust the cooking time to the size of your wedges. I like the egg wash, though, and will likely use it again. The spices are certainly versatile...I used seasoned salt and it was pretty yummy but didn't stick to the egg wash for some reason. Thanks for posting! Made for PAC 2008.
Wash potatoes, slice into long wedges. Unpeeled potatoes will be more crisp and tasty than peeled.
Use a non-stick baking pan with a drip rack. Spray your rack and pan lightly with fat-free butter flavored cooking spray. This won't add any fat to your potatoes but will give them a buttery aroma as they cook, and also protect your pan.
Dip your potato slices in your egg whites and arrange skin side down on your drip rack.
Sprinkle generously with pepper, cilantro, and Mrs. Dash Original Blend Seasoning.
Bake in your oven at 400 for about 1 hour until potatoes are crisp to your preference.