teresas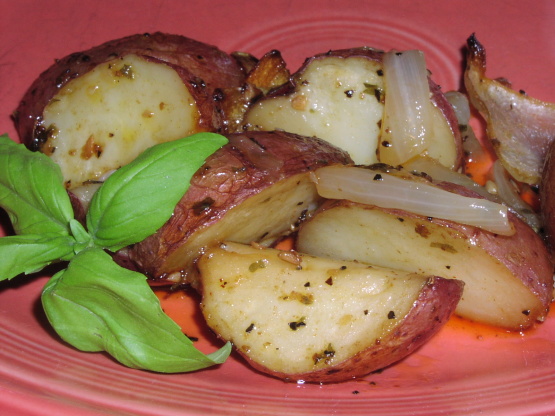 Tasty and easy. You can also add some cut up red peppers to this for a variation.

Outstanding, simple recipe -- thanks for posting and sharing. My GF and I were cooking for 7, including an 18 month old and 2 4 year olds. Everyone loved the potatoes, no left overs!

We modified the recipe slightly: fresh parsley, thyme and rosemary sprigs on the potatoes (eaxy to remove once the cooking was done), skipped the cayenne (kyoungest isn't ready for it) and a bed of sliced onions for flavor and to allow the heat to circulate under as well as over the single layer of potato wedges. We will definitely make this again, introducing the cayenne over time to acclimate the kids.
Heat oven to 350F degrees.
Cut potatoes into wedges and wash in water so as to remove some of the starch.
In a bowl combine the remaining ingredients.
Add potatoes and onions and mix well.
Spray a roasting pan with Pam.
Pour potatoes into roasting pan and sprinkle with some additional chilli powder.
Cook at 350 for one hour or until done.