Oven-Roasted Pot Roast With Vegetables
Maiden77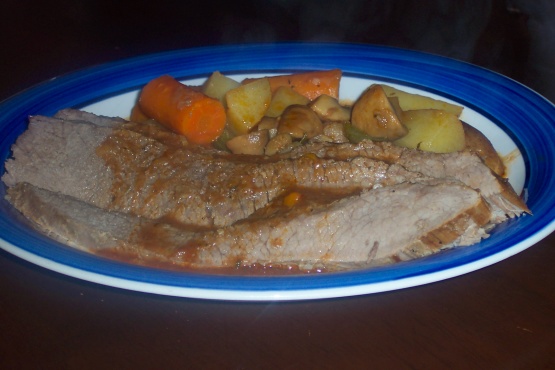 My family loves pot roast. Though I usually use my dutch-oven I find it is too small to cook enough vegetables to feed my large family. So I came up with a way to use my roasting pan to keep it simple.The long cooking time left the roast fork tender, just be sure to cut against the grain of the meat and not with it.

This was a wonderful roast...one of the best I have had. I followed the recipe to a T and it was a very tender-full of flavor roast that we all enjoyed. The cooking time was 3 hours and the roast was well done at that point, but still very tender. Thank you for a wonderful dinner. We will definately make this again.
Preheat oven to 300 degrees. Heat oil in a 12-inch skillet over medium-high heat. Season roast with salt and pepper and add to the skillet. Brown on all sides before transferring it to a large roasting pan.
Add the onions and mushrooms to the skillet, cook until softened and mushrooms are browned, scrapping up browned bits. Toss in the garlic and cook until fragrant, 15 – 30 seconds.
Pour the tomato sauce and broth into the skillet, stir well, and allow bring to a boil. Stir in the salt and pepper.
Add the Rosemary, Thyme, and Bay leaves to the roasting pan with the roast. Arrange the potatoes, carrots, and celery around the meat in the pan.
Pour the contents of the skillet (liquid, onions, and mushrooms) over the roast and vegetables.
Cover the roasting pan (use foil if your pan has no lid) and transfer into the oven. Cook until a fork easily slides into the meat, about 3 to 3 ½ hours. Remove sprigs and bay leaves before serving.