Oven-Roasted Pork Loin With Dry Rub
TrevK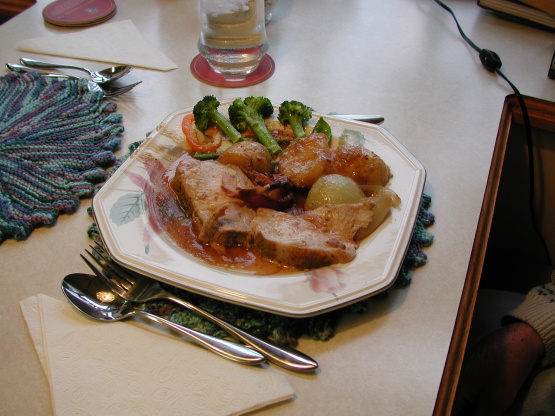 A highly rated recipe from All Recipes.com/submitted by branchan that I have tweaked just slightly I feel for the better! ---I also use this rub on boneless Boston butt roast that I roast in the oven and then slice, for a pork loin about 1/2 to 3/4 cup of the rub should be enough although you may use more if desired --- the roast needs to marinate for a minimum of 6 hours or up to 24 hours in the fridge, then must sit out at room temperature for a couple hours before roasting, so plan well in advance, make certain to line your pan completely with foil, because of the brown sugar it will be very hard to clean, or use a heavy disposable foil pan.

I have to ask, is there a typo in the amount of pepper? When I made this, I thought three tablespoons was alot, but based on all the reviews, I followed the recipe to a T. The taste of pepper was very overpowering and we had to scrape off the outer skin. I did marinate for two days and the meat was VERY tender and juicy. I will make this again using about 3 TSP of pepper to give it a fairer shake and hopefully a higher review. I think this recipe has promise.
In a bowl stir together brown sugar, white sugar, black pepper, salt, ginger, garlic powder, onion salt, dry mustard, cayenne, cumin, paprika and crushed thyme.
Make small slits and stuff a garlic clove in the slit (do this all over the roast).
Rub the pork loin all over generously with olive oil then rub the roast all over with about 1/2 to 3/4 cup dry using your hands to rub in the spices (store the remaining rub tightly covered in a glass jar in refrigerator to use for the next time).
Cover the roast with plastic wrap and refrigerate for a minimum of 6 hours or up to 24 hours.
Place roast in a foil-lined shallow roasting pan.
Let the roast sit out at room temperature for a couple hours.
Roast uncovered at 350 degrees F until the internal temperature is 150°F the cooking time will vary depending on the size of your roast.
Remove and cover with foil, let stand for 20 minutes before slicing.
*NOTE* Store the remaining half of the spice rub in an airtight container at room temperature for up to 3 months.