Prep 10 mins
Cook 15 mins

Crunchy kale as a side dish. . .a top rated recipe from Whole Foods. A super fast way to get your family to eat a super food!!!
Directions
Preheat oven to 375°F
Rinse kale and pat dry thoroughly. Remove and discard thick ribs and roughly chop leaves. Pat leaves dry again.
Toss with olive oil and garlic in a large bowl. (I actually put it all in a ziplock and shake it around really good).
Spread on a large rimmed baking sheet. Kale does not need to be in a single layer, as it will shrink in volume as it cooks.
Bake for 10-15 minutes, stirring every five minutes or so, until leaves are tender, crisp on edges and slightly browned.
Sprinkle with sesame seeds and a little sea salt before serving. NOTE: Taste before you put salt on it, as kale as a bit of a tangy/salty flavor already. It is VERY easy to overdo it with the salt in this recipe.
Most Helpful
We gave it a try, but it tasted like grass with garlic!

Really great. I learned from Whole Foods that kale has an ANDI (Aggregate Nutrition Density Index) of 1000, its top rating. So I tried this recipe and it was fantastic. I cut off all the ribs, including those on the inside. This is only my second time cooking kale, so I wasn't sure how far I needed to go. I added sea salt for excellent results. Will be making kale like this all the time now. Thanks!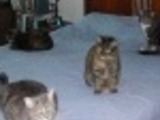 Utterly stupendous way to make kale! Love it! I like to eat kale steamed most of the time or with a little olive oil and spices, this was a different and fun way to eat it because the texture really changes. Cutting the ribs off is a must, I left a few on and they were tougher to chew through. I used black sesame seeds for a nice exotic flavor, and since I am watching salt intake I skipped using salt during the bag-n-shake step and just put on a light sprinkling of kosher salt before I popped it in the oven, all I needed was about 15 minutes. Will definitely make over and over! Made belatedly for our VIP in Veggie Swap 24!