Oven-Roasted Corn on the Cob
Hadice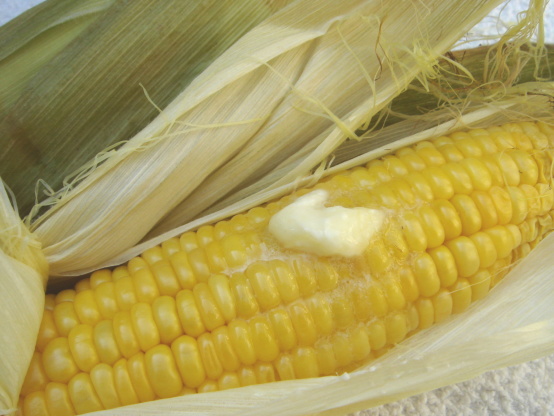 I was surprised not to see this one on Zaar! Tyler Florence said, "Once you try this, you'll never have corn on the cob any other way." We agree wholeheartedly! The corn steams and cooks in it's own husk without any pre-soaking or anything. The corn's flavor is intensified right in the husk! After removal from the oven, just pull back the husk and use it for a handle. The silk comes off with the husk! Let me know if you like corn this way as much as we do!

This is indeed an excellent way of preparing corn on the cob, especially for a large number of people. However, for the sake of energy savings, as well as time, try doing this in the microwave. I do mine 3mins. for one ear, 4 mins for 3, etc. My MW is a 900W oven, yours could be 700, 900, or 1000W, so times can vary. There are several recipes in the DB. For six or more people a traditional oven still works wonders! Thanks, Chef PotPie!
6

ears corn on the cob, in their husks (Or however many will fit in your oven.)
water, to rinse them
Preheat oven to 350°F.
Rinse ears.
Place corn cobs directly on middle rack in oven.
Bake for 30 minutes.
Remove corn cobs. Pull back husks and enjoy!