Ambervim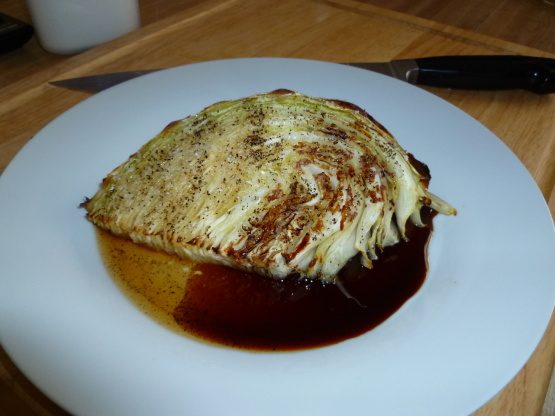 A nice roasted cabbage that becomes a warm salad when using the balsamic vinegar option. **Two cutting options provided both tend to want to separate just because it is cabbage.

So I tried this recipe thinking I'd give cabbage another chance - and I'm glad I did! Roasting is definitely the way to go with cabbage and the balsamic makes it even better. Why don't more people know about this? I cut it in wedges but next time I think I'll cut in circles to make for a more even roasting/seasoning. Thanks for the post!
Pre-heat oven to 425°F.
Combine salt, pepper, and sugar in small bowl. Set aside.
**Cutting option 1- Quarter cabbage through core and cut each quarter in to 1-inch wedges, leaving core intact. You'll have about 16 wedges.
**Cutting option 2- Slice into 1-inch-thick rounds, leaving core in to help hold it together.
Brush a rimmed baking sheet with 1 tablespoon olive oil.
Arrange cabbage in single layer on baking sheet and brush with remaining 2 tablespoons olive oil. Sprinkle with salt mixture.
Roast until cabbage is tender and edges are golden, 25 to 35 minutes.
Sprinkle hot cabbage with balsamic vinegar if using.