After oven roasting asparagus, green beans, cauliflower I thought WHY NOT BROCCOLI. The result is crispy on the outside, tender on the inside and a great new way for me to enjoy one of my favorite veggies. Hope you like it too. The garlic is smashed and diced to get as much garlic flavor as you can from each clove.
Directions
Preheat to the oven to 400°F.
Mix together the oil, garlic, red pepper flakes, salt and pepper.
Toss together the broccoli and the oil mixture in a large bowl.
You may have to adjust the oil a bit if your bunch of broccoli is smallish.
You don't want it swimming in oil on the cookie sheet.
Put broccoli on cookie sheet.
Place in the oven for about 10-15 minutes.
Be sure and check often to make sure it's not burning, you want it to caramelize but not burn.
If you don't like al dente broccoli, cook a little longer.
I usually remove after 10-15 minutes.
When the broccoli is as done as you like remove from the oven and toss with the cheese.
Most Helpful
My husband and I devoured about a pound of broccoli after making this recipe- we couldn't leave it alone! Oh yeah, a tip for making sure all the broccoli pieces are evenly coated; put the oil mixture and broccoli in a gallon size zip-lock bag and "shake it up". Thanks for sharing this super yummers recipe. Between roasting and grilling my veggies, I doubt I'll ever go back to steaming.
This really makes all the difference in the world in the flavor of broccoli. Roasting it with the garlic makes for a very mellow, mild garlicky flavor. Both my kids raved about it, which is HUGE because they are not veggie eaters AT ALL. I added a very generous splash of fresh lemon juice instead of the Parmesan just before serving and I think that was a great addition. I doubt I'll prepare broccoli any other way in the future. Don't think the Parmesan is necessary but I'm sure it is tasty that way, too.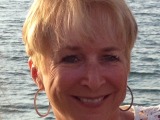 Excellent! I love broccoli cooked this way. The parmesan is a nice touch, but to save calories, is not necessary. I use only about 1-2T olive oil and a lot more garlic that I crush lightly before adding to the sheet. I like to cook this about 20 minutes, but I like my veggies cooked. Thanks for posting, riffraff, this is a great recipe!