Oven-Roasted Asparagus and Leeks
Prep 20 mins
Cook 25 mins

I can't remember where I found this simple recipe, but it is awesomely good!
Directions
Preheat oven to 400 degrees.
Trim each leek at root end, then cut off top where the thick green leaves begin.
Cut in half lengthwise and soak in cold water 10 minutes.
Rinse, then pat dry.
Trim tough ends of asparagus.
Combine leeks and asparagus in a large bowl.
Drizzle with olive oil and add salt and pepper.
Toss to coat.
Place in a large roasting pan and roast until vegetables start to turn brown, about 25 minutes.
Let cool 5 minutes, then drizzle with balsamic vinegar.
Reviews
Most Helpful
Great side dish! The balsamic vinegar sent it over the top!!

This just might be the best recipe I've found yet on Zaar...and believe me, I am trying new ones constantly. Simple goodness. We didn't use the balsamic but squeezed fresh lemon juice over the veggies instead. The mellow flavor of the leeks really complimented the asparagus and although I have always liked roasted asparagus, I will probably never serve it again without leeks. This was over the top good! LOVED IT! And it's even healthy! Thank you SO MUCH for sharing this wonderful recipe.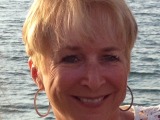 Very good! I never have much luck getting all of the grit and sand out of leeks, though. :( I don't know what I'm doing wrong.