Oven Ranch Chicken (Low-Fat)
Derf2440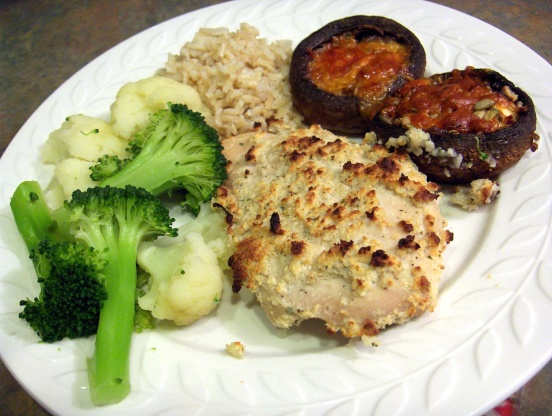 This is a wonderful recipe that my children love. I love it too because it's only 4 points per breast if you're living a lifestyle that requires you to assign points to your food. Pair this up with cole slaw and baked beans... yummy!!!

This dish is another keeper. Save leftover chicken for next day lunch as a chicken wrap using wheat tortillas. Don't forget diced tomatoes, chopped lettuce, avocados and low fat swiss cheese-yummy! Nothing gets wasted:-)
1⁄3 cup plain breadcrumbs

1

(1/2 ounce) buttermilk ranch salad dressing mix, dry
1⁄3 cup light sour cream (can sub. ff mayo too)
Heat oven to 375 degrees F.
Spray cookie sheet with non-stick spray.
In shallow dish combine bread crumbe & dressing mix (I use my food processor to mix them together because I usually make my own bread crumbs with toast - viola! the bread is already in there!).
Dip chicken in sounr cream, then crumb mixture.
Place on cookie sheet, spray chicken with cooking spray (if desired).
Discard any remaining bread crumbs & sour cream.
Bake at 375 for 30-35 minutes or until chicken is fork tender and juices run clear.