Oven Potato Wedges (Oamc)
megs_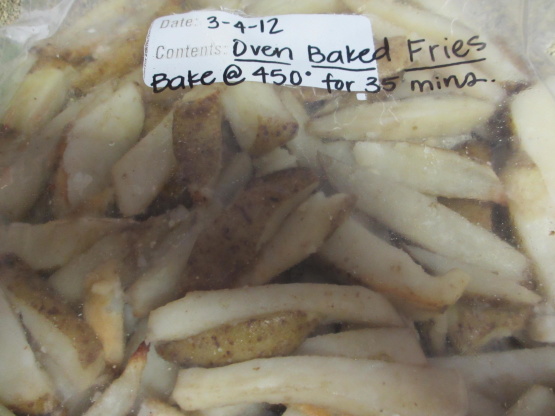 When potatoes are on sale, here is a good thing to do with them! :) Based on a recipe I found online. Cooking time does not include freezing time.

Sounds like a good recipe I will try one day although when I make fries I have learned that soaking the uncooked, sliced potatos in a bowel with HOT tap water helps remove the starch so when they bake they get crispier on the oustide and soft and chewy on the inside.
6 -8

medium russet potatoes (about 3 pounds)

2

tablespoons olive oil

2

tablespoons seasoning (whatever you like on fries)
Preheat oven to 400 degrees Fahrenheit.
Scrub potatoes.
Cut each potato into 6 to 8 long wedges.
Toss wedges in oil, just enough to coat.
Sprinkle seasoning on top and toss to coat.
Lay out on an ungreased baking sheet.
Bake for 30 minutes.
Take out of oven and allow to cool.
Leave on baking sheet and put into freezer to flash freeze.
TO FREEZE: After an hour or two (depending on your freezer), check and make sure wedges are frozen. Place frozen wedges in labeled freezer bags and return to freezer.
TO SERVE: Pull out however many wedges you want to serve; place on a greased or nonstick baking sheet. Bake in a 450 degree Fahrenheit oven for 30 to 45 minutes (depending on the size of your wedges). These can also be deep fried.