*Alia*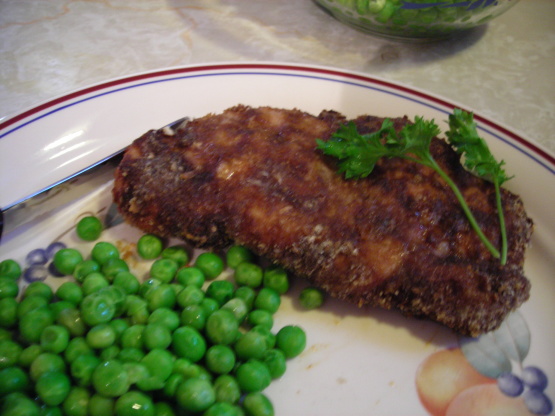 This is very nice and tender. The flavors were a bit daunting when I first came across this recipe, but they are very nice and not at all overpowering as I thought they would be.
Very Good! I cut the recipe in half and I did season the pork chops before putting them in the marinade. I also didn't have enough bread crumbs so I did add some panko crumbs which did add some crunch. They were very moist but I did add some olive oil to the top of the chops (I sprayed them first with some Pam but they weren't getting toasted). I served this with your Garlic and Red Potatoes En Papillote #254091, Honey-Caramelized Onions #265494 and a green salad. This is a meal I would definately make again. Thank you! Made for Spring PAC 09.
Preheat over to 350°F.
Line baking dish with foil.
In a bowl, beat egg, soy sauce, sherry, ginger, and garlic powder.
Sprinkle bread crumb onto a plate.
Dip chops in egg mixture, then press into breadcrumbs, making sure they are evenly coated on both sides.
Place chops on foil lined pan and bake for 30 minutes.
Turn and bake for another 20 minutes.