Oven Poached Red Snapper With Vegetables
PanNan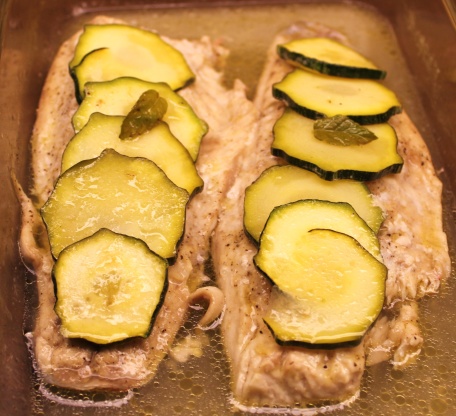 This recipe can be made with whole red snapper or with fillets. The skeletons are cooked to make fish sauce or use store bought.

Top Review by PanNan
I really liked the idea of using the whole fish and making stock from the skeleton. To make it easy, I asked the fishmonger to filet the snapper and wrap up the skeleton separately. The stock was great and the fish was very moist. My only problem with the dish is that we really couldn't taste the rest of the ingredients, and felt it needed more flavor.
Fillet the red snappers and set aside, or buy snapper fillets (easier). Cut 1 tablespoon mint leaves into strips using chiffonade style of cutting. Roll leaves lengthwise and slice into thing strips; set aside. Place snapper skeletons in a saucepan and cover with water, add a pinch of salt and simmer for 45 minutes, then strain to make fish sauce. Or use store bought fish sauce (easier).
Preheat oven to 400°F Arrange fillets in a baking dish and season with salt and pepper. Top with zucchini, squash, mint sprigs, fish broth, white wine, butter and olive oil. Bake 10-12 minutes, or until fish is cooked through (test with fork that it is flaky). Remove fillets and vegetables to serving dish, discarding mint sprigs.
Pour cooking liquid into a saucepan and reduce until it thickens slightly. Remove from heat and add lemon juice and mint strips (chiffonade). Pour over fillets and serve. Garnish with additional fresh mint.