Oven Meatballs With Cream of Mushroom Gravy
My mother used to make this, its quite affordable, and really comforting....goes exceptionally well with mashed potatoes.
Directions
Mix together the meatball ingredients (listed at the top) and form 2.5-3 inch meatballs. put them in an oven acceptable baking dish.
Pour the mushroom soup into a pan, use the soup can to measure out 1/2 can of water, and 1 can of milk.
Put the water and milk in the saucepan.
Stir these three ingredients over medium heat, until all the lumps are out, and the gravy is smooth.
Pour the gravy over the meatballs,
cover the dish with aluminum foil and cook the meatballs at 350 degrees for one hour (depending on your oven, you might want to break one open to assure its done)
Serve with mashed potatoes and steamed veggies!
Reviews
Most Helpful
These have been a family favorite for many years. But... The kitchen seasoning I'm not sure about. I use salt, pepper and garlic powder. The flour and cracker isn't necessary when using rice as binder. The ground beef should be 80% and once rolled into balls. Should be browned in skillet to help release some of the grease it holds. I've also broiled them in the oven with separating pan so they aren't sitting in the grease then drop them in to the pot with the mushroom gravy mix. Served with mash potatoes and bacon fried green beans.
Made this for supper tonight & was NOT disappointed. This is true comfort food. Didn't have any crackers, so used cracker meal instead...also added some Gravy Master to the gravy. Will most definitely be making this again...THANKS for sharing!!! :P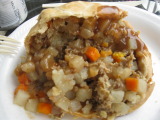 A really great comfort food meal. I will admit that I made my own meatball recipe - and used ground turkey, but they turned out great in the sauce. And I made mashed potatoes to go with them and you were right in saying it's an excellent combination. Thanks.