ImPat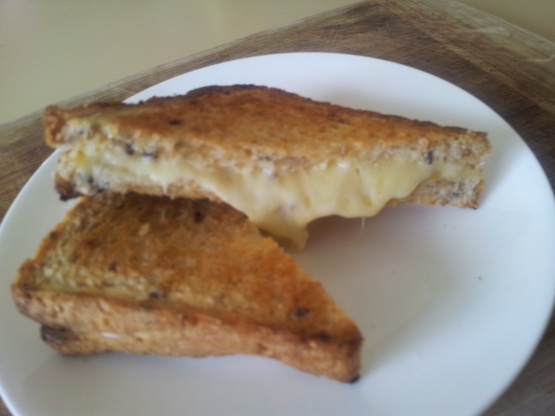 A quick and easy way to make lots of grilled cheese sandwiches without cooking 1 or 2 at a time. Saw this on TV a few years ago and decided to make some for my daughter's sleepover. It went over well. The recipe is for 1 sandwich, but I'm going to bet all the wonderful chefs on Recipezaar know how to make more at one time.

Top Review by Likkel
I love making grilled cheese sandwiches without the time consuming grilling of them one or two at a time! When my 5 children brought their friends home for lunch, I would have been grilling sandwiches until dinner the old way! I've never tried baking them before now, as I eventually started to broil a cookie sheet full of cheese sandwiches at a time and that worked out well, browning them fairly evenly. What I do like about baking them is that it doesn't require watching them so closely (like broiling does) to keep them from getting too dark. Thanks for sharing!
Preheat oven to 450°F.
Lightly butter one side of each slice of bread.
Place on a cookie sheet butter side down.
Place your favorite brand of American sliced cheese (or any other kind you prefer).
Place other piece of bread on top, butter side up.
Bake for approximately 6 minutes.
Take out of oven and flip.
Bake additional 2-3 minutes until done.