Oven Fries with Garlic and Parmesan cheese
Bergy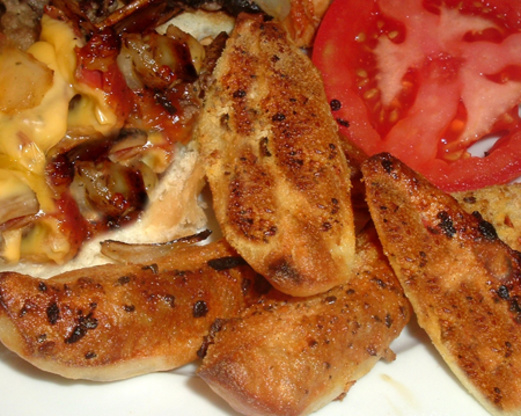 These are yummy oven fries that can be started a while in advance and finished up later in the oven.
I tagged this recipe a while back, made it and forgot to review it. I apologize! The potatoes were really yummy!I like the fact that the seasonings go on at the end so they taste fresher! This will go great with all of those yummy summer grill dinners we make!
Preheat oven to 425 degrees.
Set rack in middle of oven.
Peel potatoes, Quarter lengthwise and place in cold water to cover.
Drain potatoes.
Heat oil in shallow roasting pan over medium high heat.
When hot add potatoes in a single layer trying not to crowd to much.
Brown and turn, brown other sides, about 9 minutes total.
Remove from heat.
Can be made several hours in advance to this point and kept at room temperature.
Place in Oven and bake until tender, about 25 minutes.
Turn once, midway with tongs.
Just before removing from oven toss with garlic, pepper flakes, cheese and salt.
Return to oven a few minutes until cheese is melted.