lazyme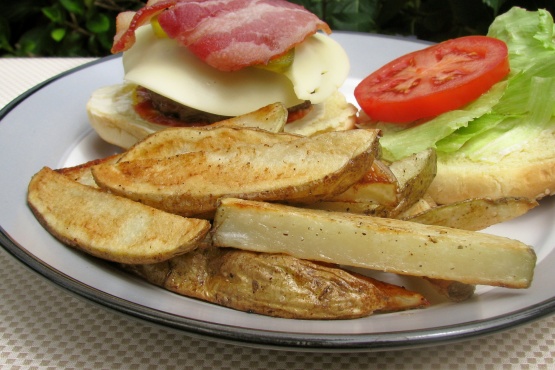 This recipe is from the magazine Cook's Illustrated (Jan/Feb 2004).

I just can't tell you how happy I am to have found this recipe. My husband and I have been on a search for what we call "slut hut fries". Explanation: There was a little place called "The Hut" that served the most excellent hot dogs and fresh-cut fries, at the corner of Skokie Blvd and Oakton St. in Skokie, IL. It was also a place where the neighborhood (I'm so sorry but this is true) 'sluts' hung out. So, we called the fries "slut hut fries', the best fries in the world. The guy who owned it for 30 years passed away, leaving the place to his nephew who promptly sold the property to make way for condos. This was 15 years ago and we've searched for fries like those ever since. Tonight, I made those fries and they weren't even 'fried'. I made the recipe exactly as written by Little Suzy, using four somewhat small, more like medium, russets. Jim and I were fighting each other over them, burgers forgotten, we just went for the fries. Best thing about this??? We have 3 huge buckets of potato plants growing in our yard and I have a feeling they're all going to become 'slut hut fries' with this recipe. I can't wait!! Thank you so much Suzy for this recipe. I will frame it and hang it on my kitchen wall. Really. I'm not kidding.
3

russet potatoes, peeled and cut into evenly sized wedges

5

tablespoons vegetable oil
Adjust oven rack to lowest position; heat oven to 475 degrees. Place potatoes in a large bowl and cover with hot tap water; soak 10 minutes. Meanwhile, coat 18 by 12 inch heavy duty rimmed baking sheet (non stick works well) with 4 tablespoons oil and sprinkle evenly with 3/4 teaspoon salt and 1/4 teaspoon pepper; set aside.
Drain potatoes. Spread potatoes out on triple layer of paper towels and thoroughly pat dry with additional paper towles. Rinse and wipe out the empty bowl; return potatoes to the bowl and toss with remaining 1 tablespoon oil. Arrange potatoes in a single layer on prepared baking sheet; cover tightly with foil and bake 5 minutes. Remove foil and continue to bake until bottoms of potatoes are spotty golden brown, 15-20 minutes, rotating baking shet after 10 minutes. Using metal spatula and tongs, scrape to loosen potatoes from pan, then flip each wedge, keeping potatoes in a single layer. Continue baking until fries are golden and crisp, 5-15 minutes longer, ratating pan as needed if fries are browning unevenly.
Transfer fries to second baking sheet lined with paper towels to drain. Season with additional salt and pepper to taste and serve.