Oven Fried Zucchini Chips
Boomette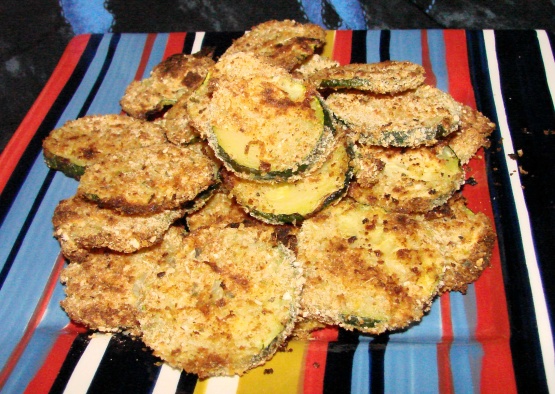 Serves 8 - delicious and a great way to use up the bounty of Zucchini from your garden.

I used real eggs more crumbs and salt, but they are very tasty I think the Italian dressing makes these Thank you for posting I will be making often
Cut zucchini into 1/4-inch thick slices; set aside. Combine egg substitute & Italian dressing in a small bowl; stir well. Combine bread crumbs, Parmesan cheese and pepper in a small bowl; stir well. Dip zucchini in egg mixture; dredge in bread crumb mixture. Place zucchini on a baking sheet coated with cooking spray. Bake at 475*F for 5 minutes; turn & bake additional 5 minutes. Serve immediately.