Shahana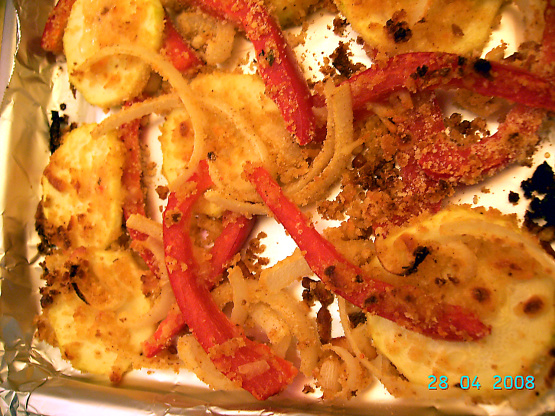 I've made this recipe a bunch of times since I first saw it in Better Homes & Garden magazine. That recipe calls for cauliflower instead of the red pepper, but its good either way or with both. As Shahana noted, the recipe is missing a step. Step 5 of this recipe should also say "Then, roll vegetables in crumb mixture until coated". Also I use them with different dipping sauces since they are more like appetizer pieces. Thanks for sharing.
nonstick spray coating
1⁄4 cup fine dry breadcrumb

1

tablespoon grated parmesan cheese
1⁄8 teaspoon paprika
2⁄3 cup sliced zucchini
2⁄3 cup onion, sliced into rings
2⁄3 cup sweet red pepper, cut into strips

2

tablespoons reduced-calorie Italian dressing
Spray a baking sheet with nonstick coating.
Set aside.
In a 9-inch pie plate stir together bread crumbs, Parmesan cheese, and paprika until well mixed.
In a medium mixing bowl place the vegetable slices.
Drizzle vegetables with salad dressing; toss until coated.
Place the coated vegetables in a single layer on the prepared baking sheet.
Bake vegetables in a 450 degree oven for 9-11 minutes or until golden brown.