Oven-Fried Sweet Potato Wedges
Anonymous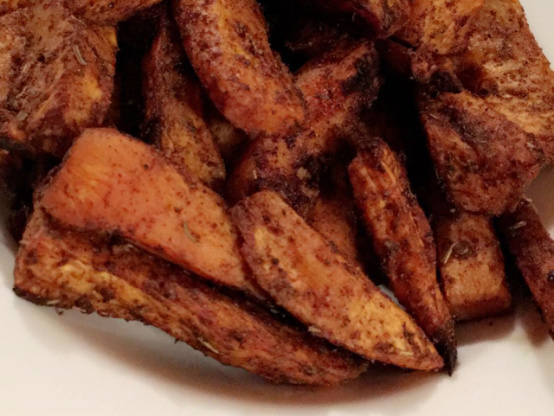 Easy-on-the-cook Sunday supper from Woman's World 12/5/06. If making with Ribeye Steaks with French-Fried Onions, roast potatoes on lower oven rack, leaving the upper rack for the steaks.

I was pleasantly surprised by these. They were outstanding! The flavors were fabulous and very complimentary to the sweet potato. I'm sure this would be good with yams, but I think this is a match made in heaven for sweet potatoes. It gave the potatoes such a wonderful flavor! I baked mine for the suggested time but then flipped them over and baked for an additional 5 minutes. Perfection. We couldn't stop eating these. I can't wait to make them again. Thank you for sharing!
Preheat oven to 450 degrees. Coat jellyroll pan with cooking spray.
Cut potatoes in half, lengthwise. Place each potato half, cut-side down, on cutting board; cut into 1-inch thick wedges.
Combine chili powder, thyme, salt, cumin, and cinnamon.
In a separate bowl, toss together potatoes, oil and spice mixture until well-coated. Arrange on pan in a single layer. Roast until potatoes are tender and browned, 20-25 minutes.