Ambervim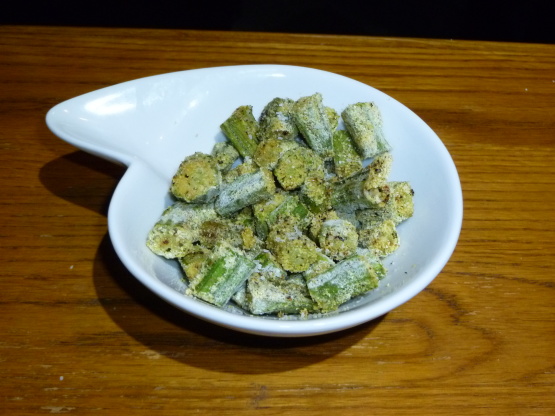 A healthier version of an old southern favorite. This recipe is comes from Souther but Lite cookbook.
A *huge* success at my dinner table! DH loves fried okra and I hate to make it. This made us both happy. Using frozen okra, already sliced, I dumped the whole bag in a colander and rinsed it to separate the pieces. While it was still frozen, I tossed it in the cornmeal, put it on the baking sheet and spritzed it with cooking spray. To avoid drying it out, I upped the temp to 425F and decreased the bake time to 20 minutes. That worked great - it was crispy and browned but still moist inside. I think it could have used a little more seasoning in the coating, garlic powder perhaps, but we were *very* happy with it as it was. I am sure this will become a regular side dish here! Thanks for sharing your recipe!
Preheat oven to 350 degrees.
Spray a cookie sheet or jellyroll pan with non-stick cooking spray.
Combine corn meal, salt and pepper.
Wash okra; drain.
Trim ends and cut into 1/2 inch slices.
Dredge in corn meal mixture to coat well.
Okra should be moist in order for corn meal to adhere.
If necessary, rinse okra again in water before dredging.
Spread okra in a single layer in prepared pan.
Bake for 30 to 40 minutes or until crisp, stirring occasionally.