Oven Fried Eggplant or and Zucchini Parmesan
Rita1652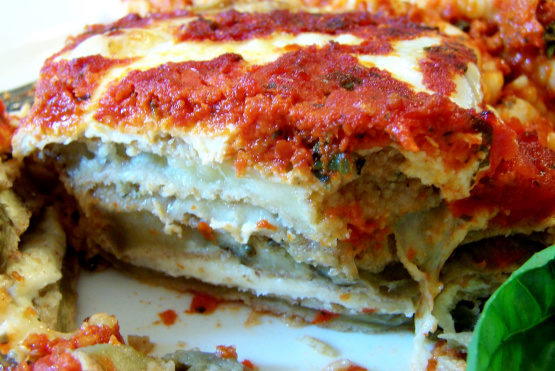 I'm posting this recipe for eggplant and or zucchini. No need to peel the zucchini. I've also done both in one recipe. You can also just oven bake the eggplant and dip into sauce for appetizers. My husband and I just love it! Especially when the eggplant and zucchini is home grown! No buttermilk no problem just place 1 teaspoon lemon juice or vinegar in a 1 cup glass then top with milk let sit while gathering the rest of the ingredients.

This was a great recipe. My only really big complaint is that it took way longer than an hour to make from start to finish. I tweaked the recipe a bit as well. I used fresh herbs instead of dried, omitted the celery (because I didn't have it), added two other kinds of Italian cheeses, and made my own bread crumbs from some leftoever homemade bread I had in the freezer.
Next time I make this recipe, I am going to add black olives and mushrooms to the sauce recipe.
My hubby absolutely loved this dish! I am so excited that I found a new recipe to add to my favorites!
Thank you bunches Rita!!!
SAUCE: Coat bottom of a large pot with olive oil.
Add onions, celery, and garlic and saute until tender about 5 minutes.
Stir in canned tomatoes, paste, spices and wine. (optional)Taste of sauce is bitter you can add 1 teaspoon sugar.
Bring to boil; reduce heat and simmer for 1 hour.
Stir and stir and stir.
EGGPLANT: In a gallon size zip-lock bag place flour, salt and pepper seal give a shake then add eggplant to coat.
Mix eggs and buttermilk in bowl.
Dip slices of dusted eggplant into egg mixture.
In the same bag with the left over flour add seasoned breadcrumbs to it.
Then dip eggplant into bag of seasoned breadcrumbs to coat them.
Place breaded eggplant onto oil sprayed cookie sheets and bake in 400 degree oven for 10 minutes on each side.
Cheese mixture: mix all together.
Assemble casserole: Place some sauce on bottom of pan, follow with eggplant, then cheese, then sauce layering till all is used.
Top with extra grated cheese.
Bake in oven at 325 degrees for 30 minutes.
Serve with crisp Italian Bread and green salad.