Nif_H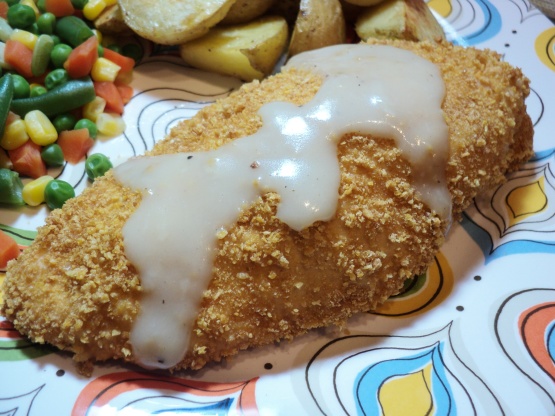 8 points plus/serving. Recipe source: WW magazine. When I made this I skipped the gravy.

Top Review by ImPat
Was not my night when I went to make this, used drumsticks but go to the pantry to find all the cornflakes had been eaten, no worries use Special K nope none left didn't think rice bubbles or coco pops or weetbix would do the trick so used dried bread crumbs and the end result was crunchu skinned chicken and moist flavoursome chicken with just a hint of cayenne in the flesh, delicious and the end result was polished bones from all, thank you ellie_ made for Rookies tag game.
Preheat oven to 375 degrees F.
Line baking pan with foil and then paced a wire cooling rack on pan; spray rack with Pam.
In three pie dishes, place 1/2 cup flour in the first one, in the second the egg whites and in the third place the cornflakes crumbs (I just crushed my own cornflakes with a rolling pin -- so they were probably not as fine crumbs as the packaged crumbs).
Put chicken in a large bowl, sprinkled with salt and cayenne. Ad buttermilk, turn to coat.
Dip chicken into the flour, then the egg whites and finally into the cornflakes; pressing to adhere. Repeat for all the chicken.
Place chicken on rack and spray wiht Pam. Bake until golden (45 -60 minutes).
Meanwhile make gravy (this is what I skipped and deducted one point from serving). by melting butter in saucepan over medium high heat. Whisk in remaining 2 tablespoons flour; cook , whisking for 1 minute. Whisk in chicken broth, cook, until gravy comes to a boil and thickens, (2-5 minutes). Stir in sage and pepper.