Oven Fried Chicken Monterey
kolibri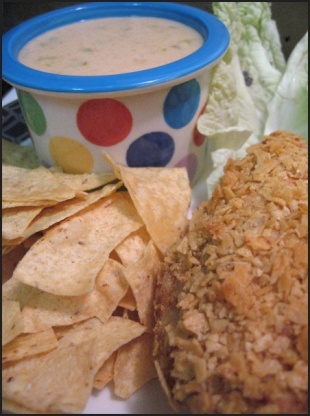 Chicken, cheese... olives! What's not to like!!!

I am still smiling after having this for dinner tonight! My GF really outdid herself on this recipe. So delicious! We loved the combination of flavors and the chicken turned out so nice and tender and the flavors were right on! This is a keeper! Mike
Preheat oven to 375*F.
Combine 1/4 cup flour and taco mix.
Shake the chicken pieces in this.
Melt butter in a 15½ X 10½ X 2 inch pan.
Place chicken pieces in pan, turning to coat in butter.
Remove pieces from pan and then coat in the tortilla chip crumbs.
Return to pan.
Bake at 375*F for 50 minutes.
Make a cheese sauce by sauteeing onion in the oil.
Stir in the flour, 1/4 tsp salt.
Add milk and pepper sauce.
Cook and stir until thick.
Cook 1 to 2 minutes more.
Add the cheese, olives and lemon juice.
Stir to melt cheese.
To serve place chicken on lettuce lined dish.
Spoon some cheese sauce over.
Pass remaining sauce.