Oven Fried Chicken - Martha Stewart Living
Nif_H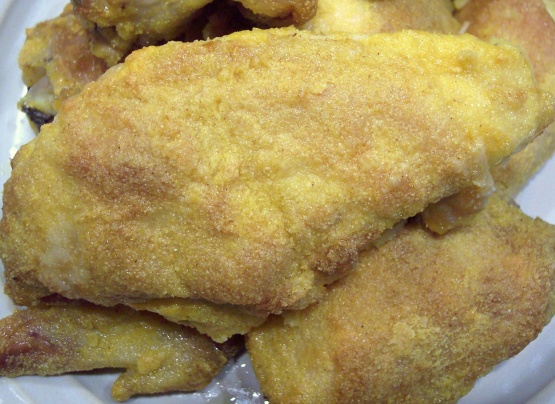 A deliciously crisp and moist oven fried chicken.

This is very good! I try to bake most things rather than fry. I didn't need the whole amount of oil, and had to reduce the temp (after the first 20 min) to 400 degrees and baked them for another 15 minutes. And I still found that the chicken was just starting to dry out a bit. Most likely that was due to the size of the chicken pieces. I will definately be making this for my family when they come to visit. Thank you for sharing! Made this for the New Kids on the Block tag game.
Mix eggs, Tabasco, onion, and garlic in a large bowl or baking dish. Add chicken and toss well too coat. Cover and refrigerate for at least 1 hour or overnight.
Preheat oven to 450°F Place a rimmed baking sheet on center rack.
Whisk flour, cornmeal, salt, paprika, and cayenne in a medium bowl. Remove chicken from marinade and roll each piece in flour mixture, shaking off excess. Discard marinade.
Place chicken on preheated baking sheet, and bake for 20 minutes. Lightly brush top of each piece with oil and bake, brushing tops every 10 minutes until chicken is dark golden brown (30 - 40 minutes more).
Transfer chicken to a wire rack and allow to cool slightly. Serve.