ImPat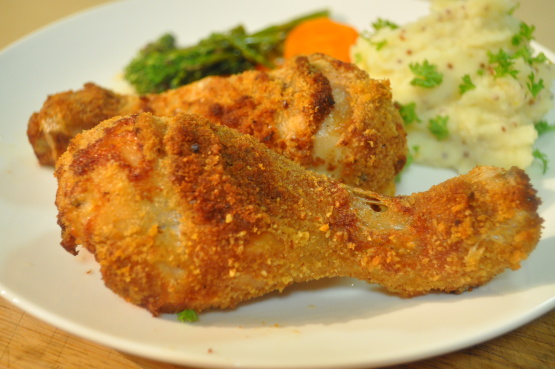 This would be loved by kids and elders cos its crunchy and you could CHANGE THE CHARACTER OF OVEN-FRIED CHICKEN SIMPLY BY CHANGING THE CRUMB COATING YOU USE.substitute with dry brad crumbs OR Potato chip chicken OR Parmesan chicken (combine dry bread crumbs,grated Parmesan,snipped parsley and dried oregano) JUST USE YOUR FANTASY! Hope u like it :)

Top Review by ImPat
I used drumsticks (8) though only 5 were eaten between 3 of us but I usually like left overs to taste them cold to see if they can be suitable for taking on a picnic, I used breadcrumbs but only used about 1/2 cup (out of the cup) and instead of brushing the melted butter over the drumsticks I dredged it through the butter. Instead of putting in a baking tray I put them on the grill rack with a tray under and baked at 200C fan forced for 50 minutes for lovely crispy and moist drumsticks (though I forgot the lightly oil the rack so my drumsticks stuck on the rack). Thank you kausha in Italy, made for Bargain Basement.
Crush cornflakes to make 1 cup crumbs, set aside.
In small saucepan melt butter or margarine, remove from heat, stir in salt and pepper.
Cut chicken, rinse the pieces, pat dry and brush with butter mixture.
Place crushed cornflakes or fine dry bread crumbs on a sheet of waxed paper, roll chicken in crumbs to coat.
Arrange chicken, skin side up so pieces don't touch, in a shallow baking pan.
Bake in 375°F oven for 50 to 60 minutes. Do not turn.
Chicken is done when it is easily pierced with a fork. Season to taste.