Oven-Fried Beef Chimichangas
NELady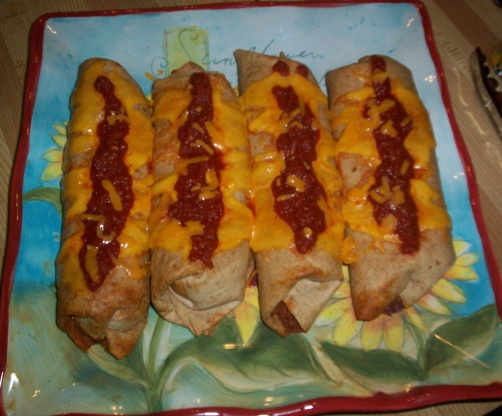 A good, simple alternative to deep-frying. I think I got this from OAM Cookbook years ago. Make sure the tortillas are room temperature or they will crack when you roll them. You can microwave the whole package for about 20 seconds to speed things up.

Great chimichangas!! I followed the instructions as written. I baked 4 and froze the rest. I didn't make the sauce but will next time. I'm sure I didn't roll them right this time but after seeing the photo I'll do better. The flavor was perfect. We enjoyed these as part of a mexican meal with beans and rice. Thanks for sharing. Made for PAC 2011.
Preheat oven to 350 degrees.
Brown beef in large skillet; drain, if necessary.
Add onions, garlic and salt, and cook until onions are soft.
Stir in refried beans and spices. Remove from heat.
Scoop 1/3 cup of meat filling a little off center on the tortilla.
Fold up edge closest to you over the filling.
Fold in each side and roll all the way.
Place on cookie sheet and repeat with all the tortillas.
Brush melted butter over the chimichangas making sure to get some on the bottom side as well.
Bake at 350 degrees for 25 to 30 minutes until golden brown.
While the chimichangas are baking, heat the sauce ingredients in a small sauce pan. Keep warm.
Serve the chimichanga with the sauce drizzled over the top and sprinkle with cheese, if desired.
These can be frozen before baking and kept in a zip top bag. To reheat, let thaw in refrigerator overnight and bake as usual.