VickyJ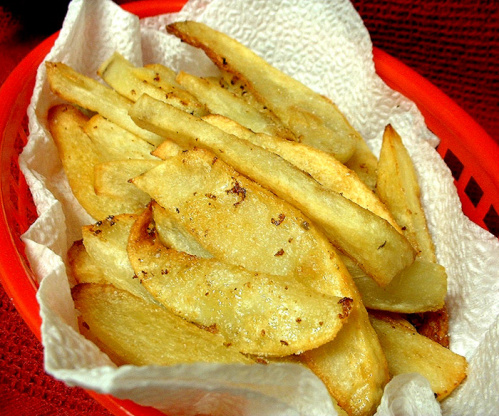 A healthy way to make french fries - once you try these you'll never go back to the old "frying" method! Enjoy!!

These were outstanding. I use 5 russet potatoes cut into strips, and 1 tsp of lawyers seasoning salt, 1 tsp of garlic powder, fresh ground pepper mixed with the 2 tablespoons of olive oil. I baked them for 40 minutes at 400 degrees and they came out just perfect!! I will definatley make these again and again. I think that these would be great with melted chedder and monterey jack cheese on top. YUM!!
Wash potatoes and cut them into semi-thin strips.
Place strips in a bowl and add cool water to cover the potatoes.
Wash out some of the"starch" and then drain the potatoes well.
Mix in the olive oil and sprinkle with salt.
Mix all of the potatoes well so that they all get coated evenly.
Spray a cookie sheet with PAM and then place the potatoes on top.
Cook at 350F for approximately 20-25 minutes (more if you want them crunchy and brown) Serve and enjoy!