Catnip46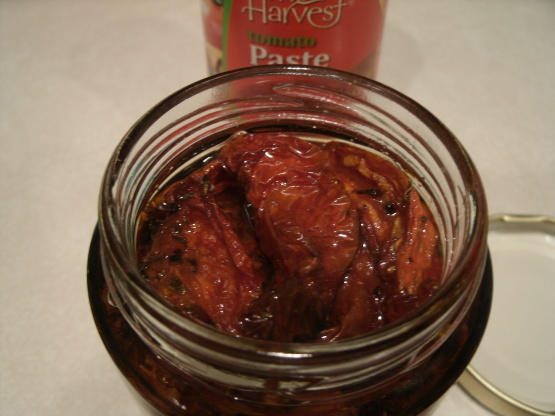 I love these tomatoes. They're delicious in pastas, salads and sandwiches. I think they taste much better than the sun-dried tomatoes from a jar.

Top Review by incdeb
Just now noticing I haven't posted a review for this yet! Whoops, because this was one of my biggest successes this preserving season. These are great! I made at least a quadruple recipe (not sure how many tomatos, as many as i could cram onto 4 large cookie sheets). I froze most of them, as i was concerned about safe long-term storage, but I did put a small amount in olive oil in the fridge (long since eaten now!). Soooo good!
Preheat oven to 200 F.
Line baking sheet with parchment paper.
Lightly oil parchment paper.
Cut plum tomatoes in half lengthwise and remove seeds.
Arrange tomatoes, cut side up, sprinkle lightly with salt, sugar, dried oregano, dried basil and garlic powder.
Place tomatoes cut side DOWN on oiled parchment paper.
Bake in oven for 2 hours.
Remove from oven and turn tomatoes so that the cut side is UP.
Bake for additional 2-6 hours (depending on how dried you want the tomatoes).
Remove from oven and cool completely.
To store, transfer tomatoes to jar and cover with olive oil.