Oven Barbecued Pork Chops
Annacia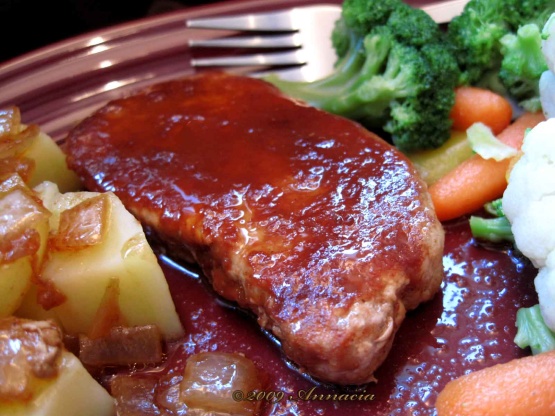 Loved these chops and something different from the same old thing! The trick to tender chops is to cook them on one side and then turn them just once.
Preheat oven to 400.
Using 2 t. oil, brown the pork chops until beginning to brown, about 1-2 minute per side. Transfer to a plate.
Using last teaspoons of oil, cook onion until softened (3-4 minutes). Add garlic; cook about 30 seconds more. Add juice and cook until it's nearly evaporated, 30-60 seconds. Stir in bbq sauce. Return chops to pan, turning several times to coat with sauce.
Transfer pan to the oven and bake until done. Recipe says 145 degrees on instant read thermometer, 6-10 min, barely pink. (I don't want any pink in my chops. Bleck.) Turn them over, only once, during cooking time to produce more tender chops.