3 Reviews
Yummy nummers! The perfect dish for a snowy night's dinner. The combination of the cranberries & orange with the smokey taste of the barbeque sauce made a perfect match for the pork. I used a
1 1/2 lb piece of pork loin, which I barded with slivers of garlic then browned before putting in the oven (I used a cast iron frying pan for the whole cooking process). My roast took about 1 1/2 hrs. to cook, and I started basting with the sauce when the meat reached 70 degrees. I halved the sauce and reduced the sugar to 1/3 cup - it was just the right edge of tart & sweet. A definite keeper, thanks Breezer for another fabulous recipe!
What a nice rounded roast. Used a 4 pound roast, that I had stored in my extra freezer, omitted the salt, used store bought generic bbq sauce, and reduced the sugar to 3/4 of a cup. Turned out perfectly, flavors were real nice, and not to sweet. Cooked this for 3 hours. Made for 1-2-3 hits

This made a fabulous dinner on New Year's Day, without a lot work or fuss. I had a 5-1/2 lb. pork loin roast (with bone). It took about 3 hours to cook. I used 2/3 cup of sugar because I was a bit leery of a full cup. I think it came out perfectly and still retained its tartness. I can imagine using the sauce for many other dishes. Thanks for sharing this lovely recipe. Made for 1-2-3 Hit Wonders Tag Game.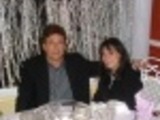 Oven-Barbecued Cranberry Pork Roast