Oven Barbecued Chicken Breasts
Mami J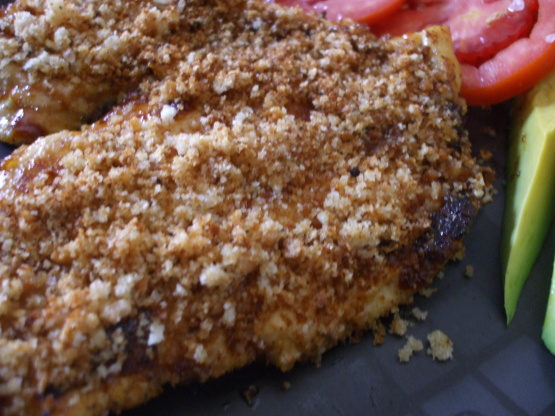 This a lighter barbecued and crumb-coated fried chicken. It is crisp, flavorful and good, with a crunch topping

Top Review by Mami J
This is a nice, simple dish. I made half the recipe because I doubled the amount of chili in the sauce to make it spicier for the adults. I wish I had thought of doubling the sauce to serve with the chicken breasts as a dipping sauce. Thank you for sharing. Made for Spring PAC '10.
Crumb Topping : combine the 8th,9th,10th,11th,and 12th ingredients to make the crumb topping.
Barbecue Sauce:
1. combine the ketchup, chili sauce, brown sugar, vinegar and garlic in a small saucepan. Bring to boil over the medium low heat. Cook uncovered, stirring frequently, until thickened, about 5 minutes. remove from heat. add a grinding of black pepper.
2. Heat the oven to 400 degrees F. Place a sheet of heavy-duty alumiunum foil on a baking sheet and crimp the edges up slightly so the juices won't drip over.
3. Coat the undersides of the chicken breasts lightly with the barbecue sauce. Place the breasts sauce side down, on the foil lined baking sheet. Coat the tops of the chicken breasts with the remaining barbecue sauce, dividing it evenly.
4. meanwhile, heat the olive oil in a medium skillet Add the garlic and saute over medium heat for 1 minute. Add the crumbs, thyme and a pinch of salt and a grinding of black pepper. Saute the crumbs, stirring frequently, until lightly toasted, about 5 minutes. Spoon the crumbs evenly on top of the chicken breasts.
5. Bake the Chicken for 15 minutes. Let stand until slightly cooled. Cut each breast into 1/2 inch slices.