gailanng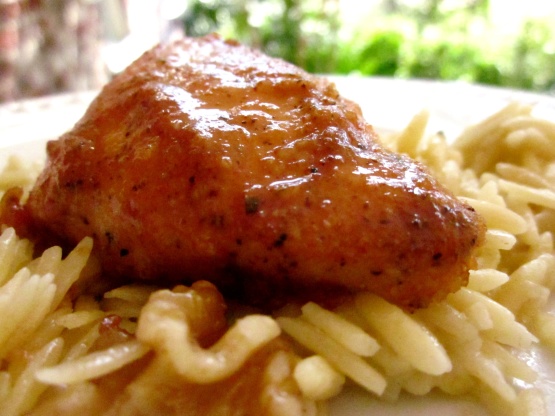 This delicious dish is adapted from Cooking in a Casserole by Robert Ackart (1973). The whiskey gives the BBQ sauce a special zip. This recipe calls for chicken breasts, but you may use any part of the chicken that you like.

Yum! This was oh-my-gosh good. I went very light on the whiskey, due to the non-drinkers in our home. Even so, the BBQ sauce was so zesty and flavorful, and the chicken was moist and fork-tender. We all really enjoyed this wonderful dish, and I know we'll have it quite frequently. Thank you for sharing your recipe, Cooking Beast. Made for the "Best of 2011" tag game.
Flour mixture: combine all ingredients in a paper or plastic bag. Coat chicken pieces one at a time in bag.
Lightly oil a cookie sheet with olive oil. Spread flour-coated chicken pieces evenly on sheet.
Combine the sauce ingredients. Using a brush, coat the chicken pieces with sauce.
Preheat oven to 350°F Bake small pieces like legs for 60 minutes. Larger pieces like breasts may take up to 90 minutes. Every 30 minutes, turn the pieces over and coat with BBQ sauce. Give a final coat just before serving.