Oven-Baked Wild Rice Pilaf With Mushrooms
jenne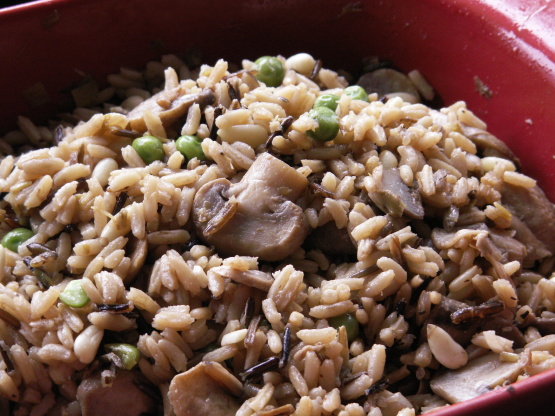 From the November/December issue of Vegetarian Times.

This was good. Reminded me of Rice a Roni (a good thing!) but homemade and much healthier. I made this as a main course but the flavors weren't complex enough for me to stand up on its own. I'd make this again, but as a side.
Preheat oven to 375 degrees.
Heat oil in a large dutch oven over medium heat. Add leeks and cook for 5 minutes or unil soft, stirring often.
Raise heat to medium, add mushrooms and cook for 7 minutes, or until liquid has evaporated and mushrooms begin to brown.
Srir in garlic and thyme, and cook 1 minute or until fragrant.
Stir in rice. Add wine and soy sauce, simmer 2 minutes or until almost all of the liquid has been absorbed. Add broth and 1 cup of water and return to a simmer.
Place lid on Dutch oven and bake 45 minutes. Remove lid, and bake 30 minutes more or until most of the liquid has been absorbed.
Remove from oven, cover and let stand 5 minutes.
Fold in peas and pine nuts. Season with salt and pepper and serve.