Oven-Baked Sweet BBQ Chops
Nimz1466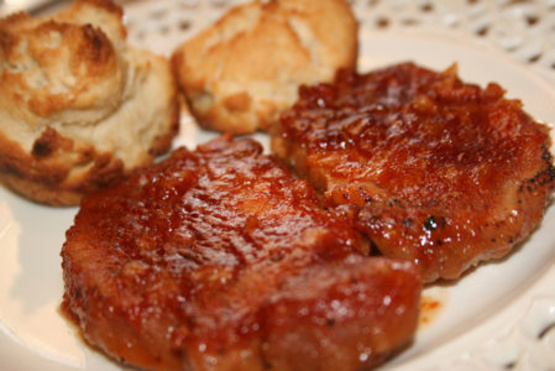 These have a really good sweet onion BBQ sauce on them. At first I thought that 1/4 c. would be way too much onion, but it cooks in really well, and the sauce isn't overpowered by them at all. The original recipe called for this amount of sauce on 5 chops, but I usually only put in 3 chops (I'm not a fan of left-over meat and I'm only cooking for 2). If you were to make 5 chops, I would suggest doubling the sauce. Also, depending on the type of chop, you may not need to cook as long (I've used small boneless loin chops and they only took about 1 hr 15 min)

We enjoyed these very much and I will make them again. I followed the recipe exactly and see no need to change it. I think this will work good with chicken or spare ribs and will try those soon.
Combine everything in a small saucepan and bring to a boil (doesn't take very long). Simmer 5 minutes.
Place 3 pork chops in a pan (try to find one that they fit snugly in, so the sauce stays around them). Spoon sauce on top and cover.
Bake at 375 for 45 minutes to 1 hour.