Jen T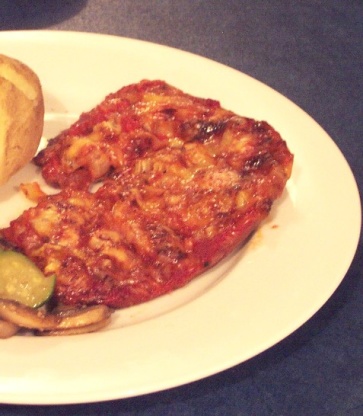 Easy to put together earlier in the day then pop in oven 30mins before needed. You could call this Pizza Style Schnitzel!!! Makes a great change from crumbed. You could also use chicken or pork schnitzels in place of beef.

I am giving this 5 stars, cause I make this all the time, it is my son's favorite comfort/birthday food. I do it slightly different, in that I lightly fry the snitzel in butter and oil, and I use bought spagetti sauce and a cup of water, instead of the paste and onion. He likes the sloppy mess on the bottom :) I add the cheese after 30 mins, and cook another 15. never have any leftovers, so I can highly recommend this easy version.
Place pieces of schnitzel in a greased baking dish so that the meat covers the entire area.
Spread over tomato paste evenly.
Sprinkle over the chopped onion.
Season with salt & pepper.
Cover with grated cheese.
Bake for 30mins at 350'F/180'C.