Oven-Baked Risotto (Several Variations)
WiGal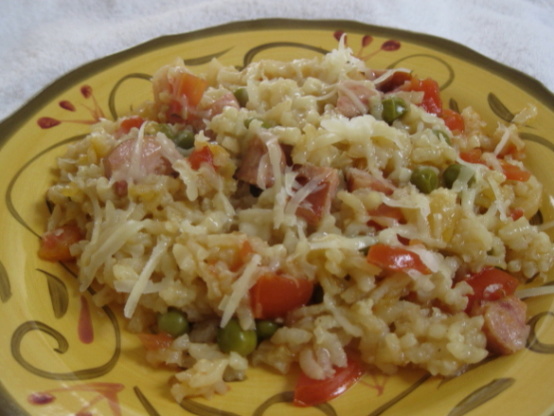 This is a great time saver, and is nearly as good as the laborious version. Feel free to experiment with any ingredients to mix into the base recipe, the possibilities are endless (meat, veggies, herbs, etc.). I have listed a few of my favorites. Most ingredients can be added and cooked into the risotto. Some things are better stirred in after it is cooked. I have tried to list which ones I would add at the end in the directions. Please note: nutrition facts include the optional ingredients for all 4 variations.

Top Review by WiGal
Delicious, like the slight hint of wine, and considerably easier than the traditional technique. I have been eyeing up this recipe for some time and glad that I had the opportunity to review it as part of the Top Favorites Game of 2008. I chose to work with Variation 1 and enjoyed this for our lunch. I used a single portion size of canned peas and added it during the second phase of baking. For the second phase of being in the oven mine was in over 20 minutes-maybe I did not have something hot enough? Nuked the wine. Thanks for sharing an excellent recipe Maito. And notice that the NV include all variations' ingredients so this is healthier than it first appears.
3

cups chicken broth or 3 cups vegetable broth

1

tablespoon olive oil

1

onion, diced

2

garlic cloves, minced

1

cup arborio rice or 1 cup carnaroli rice
1⁄2 cup dry white wine, heated
parmesan cheese, freshly grated

Optional Variation 1

3

ounces low-fat smoked sausage (1 link) or 3 ounces any other sausage, cubed (1 link)

1

cup tomatoes, chopped

1

cup peas
1⁄4 cup chives, chopped
1⁄4 cup fresh Italian parsley, chopped

Optional Variation 2

1⁄4 cup green onion, sliced

4

cups fresh spinach

5

ounces lox, cubed
1⁄4 cup dill, chopped
nonfat sour cream or light sour cream, for serving

Optional Variation 3

1

fennel bulb, trimmed and diced

1

carrot, sliced

1

bay leaf
1⁄2 lemon, zest of (I use a microplaner)
1⁄2 teaspoon fresh thyme

10

ounces mushrooms, sliced, sauteed

Optional Variation 4

1⁄2 tablespoon gingerroot, minced

1

cup shiitake mushroom, sliced, lightly sauteed
1⁄2 lemon, juice of
1⁄2 lime, juice of

1

teaspoon truffle oil, plus more
truffle oil, to drizzle on top
Preheat oven to 350 degrees. Spray a baking dish (I like to use a lasagna pan). Once oven is at temperature, place baking dish in oven to heat.
Bring broth to a boil, and hold at a gentle simmer.
Heat oil in a medium pot over medium heat. Sauté the onion for 2-3 minutes, then add the garlic and other vegetables (if making one of the vegetarian versions). Continue cooking until the onion is translucent. Add the rice and stir with a wooden spoon until it is evenly coated with the oil, and is toasty (a minute or two).
Transfer rice to baking dish, add simmering broth, pepper to taste, optional ingredients, and stir. Use your judgment on what ingredients would be better to add after it is cooked (like herbs, the lox, spinach, tomatoes or sautéed mushrooms). Cover tightly with foil and return pan to the oven. Bake about 17 minutes.
Uncover and stir in the heated wine; cover again and bake for an additional 10-15 minutes. You are checking to see that most of the liquid has been absorbed. Remove and stir in optional ingredients. Top with parmesan cheese, and serve immediately.