Oven-Baked Maple Barbecued Ribs
teresas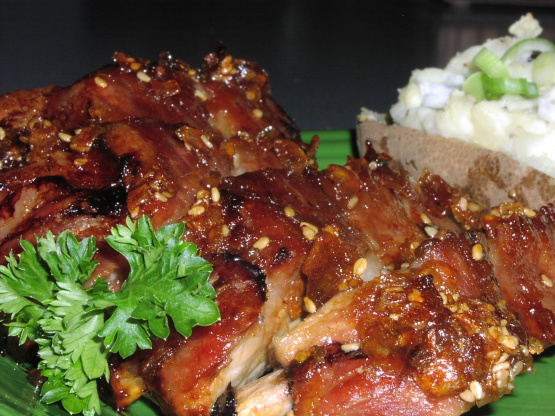 I love cooking and baking with maple syrup and have collected many different recipes using maple syrup over the years, if you have any maple syrup around then this is a rib recipe you should not pass up! The sauce recipe may be easily doubled. Prep time includes the first baking of the ribs.
Set oven to 350 degrees.
Place ribs meat side down on a shallow baking pan.
Bake for 40 minutes.
Drain and cool slightly.
Meanwhile, in a saucepan, combine remaining ingredients; cook, and stir over medium heat until mixture comes to a boil.
Cut ribs into serving-size pieces; return to pan (meat side up).
Pour the sauce over ribs.
Bake uncovered for 1 hour or until the ribs are tender, basting occasionally.
Note: If desired the sauce recipe may be doubled and also, prepared a day ahead, and refrigerated until ready to use.