PaulaG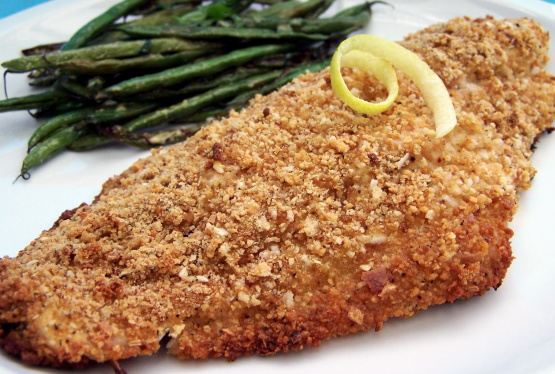 You can use about 1 tablespoon fresh dill in place of the dried if desired. I add in about 3 tablespoons grated Parmesan cheese to the breadcrumb mixture but that is optional. This is also good with other meaty fish fillets too! Double the recipe for more than 4 fillets.

Yes, loved it !! Delish ! Will make again....I added a bit of Smoked Paprika...also used Greek yogurt instead of Mayo...for health reasons. All the same, wouldn't of put it together this way without this recipe. Thank you !
Set oven to 425 degrees.
Line a baking sheet with foil then spray foil with nonstick cooking spray.
In a bowl mix the fine dry breadcrumbs with seasoned salt black pepper and cayenne.
In a bowl combine the mayo, buttermilk, lemon rind, lemon juice, dill and garlic until well combined.
Brush the fillets on both sides with the mayo mixture.
Coat evenly with the breadcrumb mixture.
Place the fillets into prepared baking sheet.
Sprinkle with more seasoned salt and black pepper if desired.
Bake for about 20-22 minutes or until the fish flakes with a fork.