Oven-Baked Honey-Barbecue Spareribs
Amita S.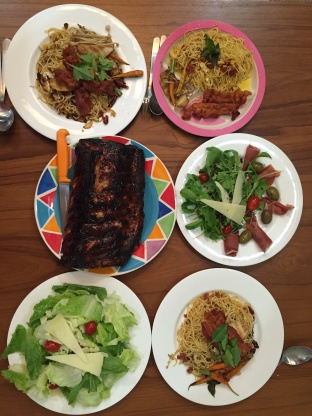 I LOVE these, I accidentaly posted your comment elsewhere lol so here goes again. I tried this recipebefore as is and it was amazing! This time around I put apple juice and vinegar in the pan to simmer with the ribs. In the sauce, I put red raspberries instead of the lemon juiceand honey. Exceptional!!!
Set oven to 350°F.
Line a shallow roasting pan with foil (this will allow for easier clean-up).
Sprinkle the ribs on both sides with a little black pepper if desired.
Place the ribs bone-side down on the roasting pan; cover with foil and bake for 1 hour; drain fat.
In a bowl combine oil, honey, soy sauce, lemon juice, Worcestershire sauce, paprika, salt, dried oregano, a small pinch cayenne, garlic powder and minced yellow onion.
After 1 hour of cooking time brush some of the glaze onto both sides of the ribs.
Continue to cook UNCOVERED for 30 minutes longer or until the meat is tender, brushing frequently with remaining glaze.