Oven Baked Fish in Casserole With Dried Plums
milliwuu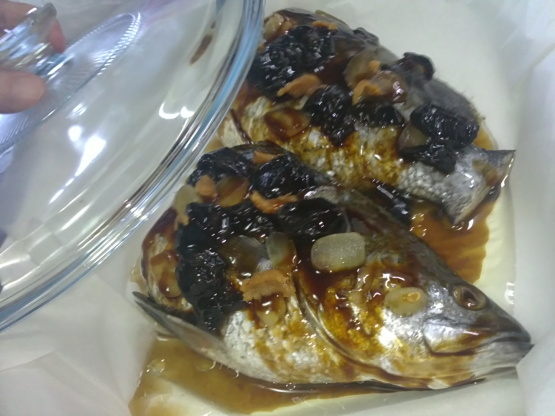 Recently I have been looking for ways to eat well with least washing .... ha ha, try this!!
fish (your favorite kind or shape, that occupies about 2/3 or your casserole)

6 -8

dried plums (cut into 3 slices. Or some capers, salted olive slices...)

3

garlic cloves (sliced)

3

tablespoons sticky soy sauce

1

dash sesame oil (optional)
chopped herbs (parsley, basil, or coriander...)
Pat fish dry and put in foil lined casserole (for easy cleanup. Or, I also sometimes use baking paper for ease of microwaving either to heat up before serving, or when you find it not cooked in the center while eating.).
Spread plum, garlic slices and chopped herbs on top and drizzle with sticky soy sauce and sesame oil.
Cover and bake in oven of 180C or 350F for 20min (fillets)-40min (whole cuts).