Oven Baked Fish and Chips
Derf2440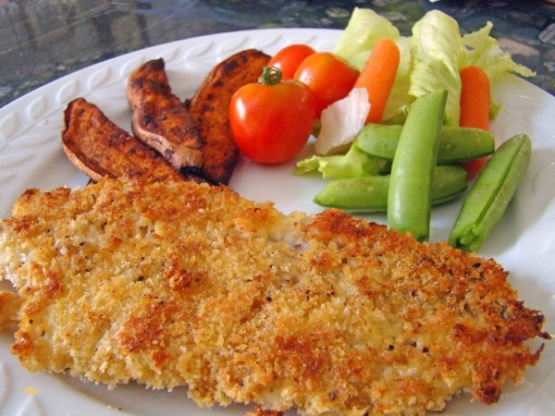 From Family Circle, UK. A healthy version of the British staple. Serve with mushy peas for a real English meal.

I only made the cod but it was quite good. I liked how this had a slight crunch to the top, without being "too" bready. My daughter (who complained about having fish) had two helpings! I had a very thick piece of cod, so I baked it at least 15 min. more. I served with steak fries. I haven't made cod too often, but this has motivated me to try it more often. Thanks Ppaper doll, for posting. Rpxygirl
Breheat oven to 220 degrees Celsius Blanch potatoes by putting them in a large pan of salted water and bring to boil. Drain well.
Tip potatoes in a shallow baking tray, drizzle with olive oil and mix until evenly coated with oil. Arrange wedges in single layer, sprinkle with salt. Cook 35 minutes, turning occasionally, until golden and crisp.
Meanwhile, prepare the fish. Mix together the breadcrumbs, cornmeal, and paprika in a bowl. Dip haddock or cod fillets into the flour, shake well to remove excess, then into egg white, and finally into the crum mixture until evenly coated.
Place on baking sheet sprayed with cooking spray. Cook 12-15 minutes until cooked through and golden. Serve with chips.