Oven Baked Crusty Herbed Cauliflower
Tee Lee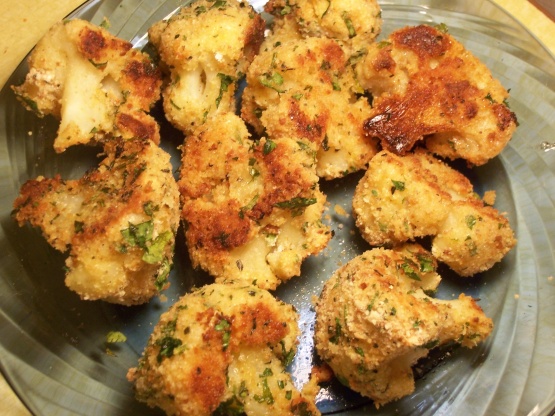 Just found this cauliflower recipe that has been in my recipe collection for years. You steam the cauliflower, bread it, and then bake it. Change the seasonings to taste. Nice change from deep fried. Great side dish for dinner, or serve as an appetizer with a dip (bottled Creamy Ranch salad dressing is good).

One of my diners had serious doubts & was pleasantly surprised so this was a big hit. I used another reviewer's suggestion to micro steam the cauliflower. I also breaded a few mushrooms. The herbs & panko breadcrumbs made a big difference in the end result. Everything was flavorful & crispy. It did take longer than the recomended 20 minutes & I flipped the veggies so they crisped on both sides. Thank you for sharing the recipe!
Cut cauliflower into medium-size florets.
Steam the florets in a steamer basket over simmering water; cover. Cook for just a few minutes until barely tender.
Remove and cool slightly until you can handle the pieces.
Meanwhile, beat together eggs, salt and pepper in shallow pie plate.
Toss together bread crumbs, basil and parsley in another shallow pie plate.
Preheat oven to 400 degrees Fahrenheit.
Coat baking sheet with nonstick vegetable oil spray, or lightly oil with a pastry brush.
Place flour in a bag. Add florets in batches, shake to coat. Shake off excess flour. Discard leftover flour.
Dip lightly floured pieces into egg mixture then into crumb mixture, turning to coat.
Place on prepared baking sheet.
Drizzle with melted butter.
Bake in preheated 400 degree Fahrenheit oven for 20 minutes or until golden and crispy.
Serve hot.